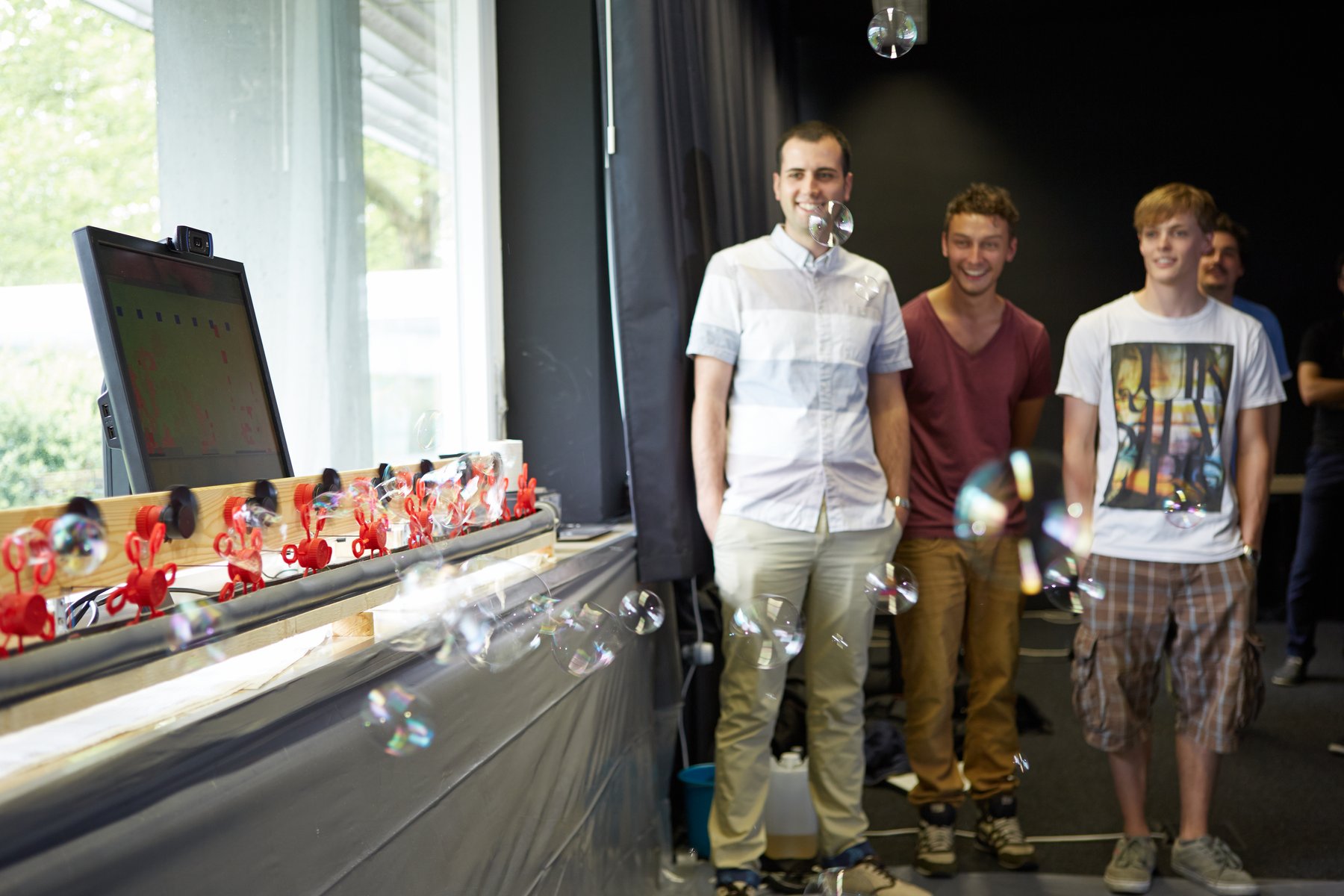 Interactive Media Design
Content
Interactive media have become an integral part of our lives. We inform ourselves on websites, communicate via social media such as Facebook, use them to control media systems for vehicles or homes and move around in virtual worlds. In the seven-semester Bachelor's programme Interactive Media Design, students learn to design interactive media and thus help shape the future of the digital world. The interdisciplinary and practice-oriented course content imparts all the knowledge that plays a role in the planning, design or technical development of interactive products. The programme is taught in German. You can find more detailed information about the degree programme on the website of the Faculty of media.
Perspective
Graduates of the degree programme mainly work in media production and consulting. They are primarily employed in strategic, creative, technical or team management positions. For example, in agencies, software houses, in-house design departments, in the game and entertainment industry or in cultural institutes. In addition, the Bachelor Interactive Media Design enables students to realise their own ideas in a self-employed capacity.
Building on the Bachelor's degree, the following Master's programmes are possible:
Expanded Media - Master of Arts
Structure
In the first semester, students receive basic methodological, design and technical training. In the following semesters, the focus is on practical projects, which usually have a direct application reference or are carried out together with well-known companies. In addition, the compulsory electives allow students to deepen their knowledge in individual disciplines or to address current topics and technologies. The practical phase in the fifth semester enables students to test their acquired skills in companies, to recommend themselves and to make valuable contacts. In the seventh semester, a research project prepares students for the Bachelor's thesis, which forms the degree at the end of the semester. A detailed presentation of the study contents can be found in the module manual German).
Access
The prerequisite for the Bachelor's programme is the entrance qualification for a university of applied sciences. A central component of the selection process is the admission workshop. This consists of a practical assignment prepared on site and an interview. Admission requirements include these school-leaving qualifications:
general higher education entrance qualification
Subject-related higher education entrance qualification valid in Hesse
A technical college entrance qualification valid in Hessen
A detailed description of the admission requirements can be found in the Special Provisions of the Examination Regulations (German) as well as in the Aptitude Test Statutes (German).

Media campus online
At mediencampus.h-da.de you will find news and dates of all media study programmes as well as project presentations.