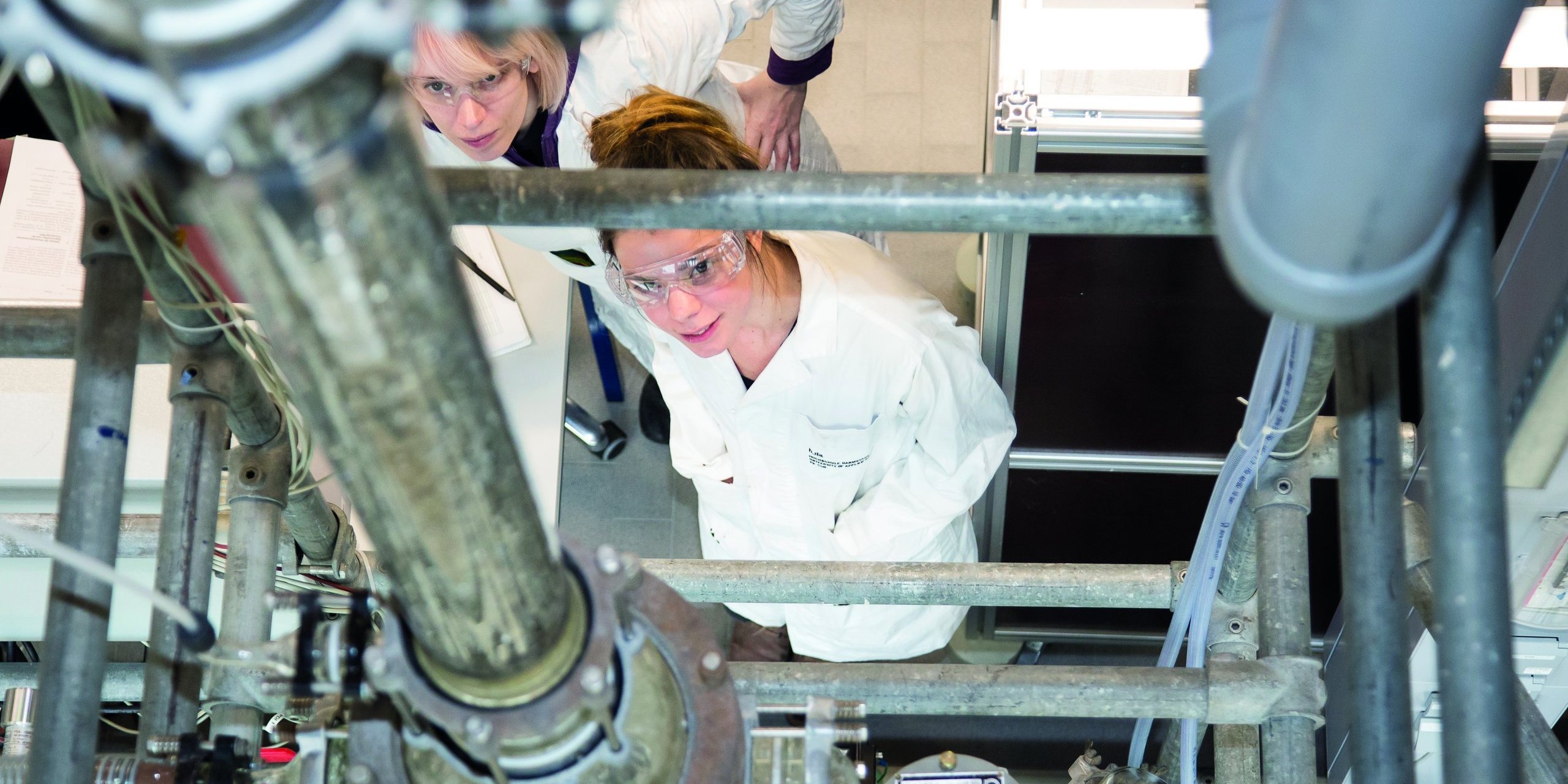 Industrial Chemistry
| | |
| --- | --- |
| Semester | 7 Semester |
| | Darmstadt |
| | Winter semester |
| | DE |
| | Without admission restriction. |
Content
Whether medicine, food or cosmetics: Many everyday products are unthinkable without chemistry and process engineering. Engineers in technical chemistry help to ensure that such products have the best possible properties and, above all, are produced sustainably. In addition, they design and monitor the efficient and safe operation of production plants. As specialists and managers, they act in an environmentally and cost-conscious manner and think sustainably from raw materials to disposal. In the Bachelor's degree programme in Technical Chemistry, students receive the tools for their future fields of work. In an application-oriented manner, they deal with scientific and technical fundamentals, especially from chemistry and process engineering, in theory and practice. State-of-the-art facilities and laboratory equipment are available for this purpose. More detailed information on the degree programme can be found on the website of the Faculty of Chemistry and Biotechnology.
Perspective
Technical chemists have a wide range of job and career prospects in research and development, production and operations management:
Chemical and pharmaceutical industry
Consumer goods industry (e.g. food, plastics or automotive companies)
Environmental technology and plant engineering
Public service (e.g. licensing and monitoring authorities) and NGOs
Research institutes
Building on the Bachelor's degree, the following Master's programmes are possible:
Structure
You learn the scientific-technical basics including data science followed by the subjects of process engineering. The focus is on chemical, physical and biological processes of material conversion. Elective subjects from the fields of "Safety and Environment" and "Organisation and Management" complement the programme. The practical phase and the Bachelor's thesis are usually completed in companies. A detailed description of the study contents can be found in the module manual (German).
Dual study model
Technical Chemistry (B.Sc.) can also be studied dual (German). In the dual form, students alternate between courses at the university and closely interlinked practical phases in cooperating companies. You can find more information at h-da.de/dual (German).
Access
The degree programme in Industrial Chemistry (B. Sc.) is not admission restricted (no NC). These school-leaving qualifications, among others, are considered to be admission requirements:
General higher education entrance qualification
Subject-related higher education entrance qualification
Advanced technical college entrance qualification
A detailed description of the admission requirements can be found in the Special Provisions of the Examination Regulations (German).
Faculty secretary's office
Susanne Schäfer
+49.6151.533-68189
sekretariat.fbc@h-da.de

1
Consultation
Mo 08.00 - 12.00 Uhr und 13.00 - 15.00 Uhr via Telefon und E-Mail Di - Do 08.00 - 12.00 Uhr und 13.00 - 15.00 Uhr Fr 08.00 - 11.30 Uhr