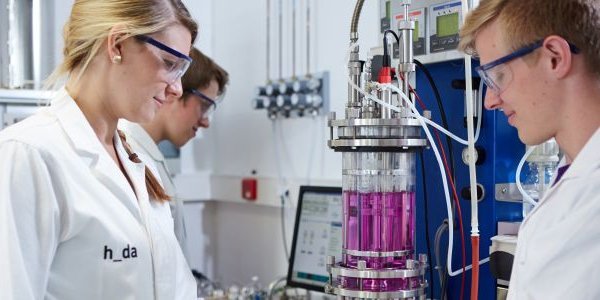 Chemical Engineering and Biotechnology
Content
Anyone who wants to be professionally successful in the chemical and biotechnological field needs broad knowledge from both disciplines. The interdisciplinary Master's programme in Chemistry and Biotechnology (M. Sc.) provides the necessary basic knowledge. The three-semester programme focuses on bioprocess technology and process analytics, process modelling and simulation, statistical methods, database management, hygienic design and natural product chemistry. In addition, there is the possibility of specialisation in chemical technology with a focus on microreactor, interface and nanotechnology or in biotechnology with a focus on heterologous expression systems and immunology as well as biomaterials and tissue engineering. More detailed information on the programme can be found on the website of the Faculty of Chemistry and Biotechnology.
Perspective
The production, research and service landscape in Darmstadt and the Rhine-Main-Neckar region is characterised by small, medium-sized and large chemical and biotechnology companies. Graduates of the programme are thus offered attractive career opportunities with positions of responsibility. The diverse range of courses enables them to work successfully in interdisciplinary project teams and provides optimal preparation for a career in the natural or life sciences. Those interested in science can opt for a doctorate.

After a Master's degree, there is the possibility of a doctorate. The central contact point is the Graduate School.