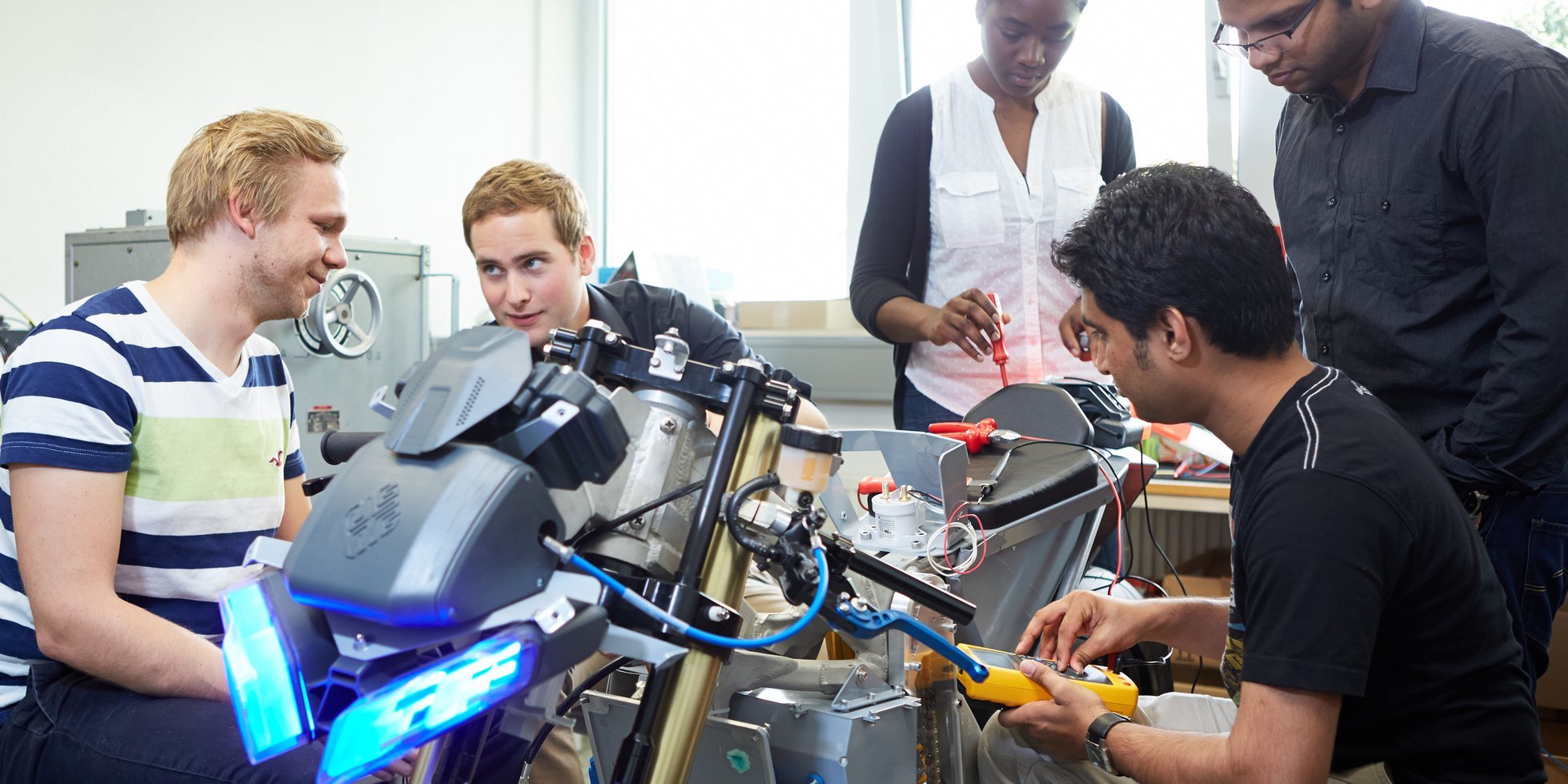 Electrical Engineering and Information Technology (Master's degree)
Content
Innovations in electrical engineering and information technology are the basis for a smart, automated and interconnected world. In the international master's program at the h_da, students acquire the tools for their career in this forward-looking market. With the four main focuses Automation, Communications, Embedded Systems and Microelectronics as well as Power Engineering, the program covers all important disciplines. It enables students to diversify or specialize in a wide range of fields. They learn and work in intercultural teams. The language of instruction is English.
Perspective
The programme lays the foundation for a successful professional career in business and research, in Germany and on an international stage:
Automation: In this field, graduates develop safe and complex automation systems. Professionals master future technologies such as IoT and help shape the future of Industry 4.0.
Communication: This is about the networks and communication technology of the future. Professionals develop hardware, software and algorithms for intelligent systems.
Embedded Systems and Microelectronics: Graduates find solutions for highly complex control tasks, develop hardware and software with innovative state of the art technology.
Power Engineering: Solutions for the energy revolution and electromobility are in demand - from environmentally friendly power generation to efficient distribution.
Structure
The application-oriented programme consists of two semesters at the h_da, followed by two project semesters in industry. In addition, mandatory German courses and intercultural workshops are part of the curriculum for international students. In order to ensure a successful start into the studies, technical hands-on preparatory courses and excursions are offered in September and March. You will find a detailed description of the course contents in the module manual.
Access
As a prerequisite, a Bachelor's degree of at least a six-semester academic program in electrical engineering or a closely related field is expected. A clearly discernible motivation with excellent past academic accomplishments in fields relevant to electrical engineering is indispensable. High priority is given to IT experience. The overall impression that the candidate offers, with proven proficiency in English, including technical English, is very important to us.

For international applicants the 4-semester programme starts each year in the autumn semester. They pass through an included internship semester. For applicants holding a German 7-semester bachelor degree the 3-semester programme starts each year in the autumn and spring semester. All information needed is available through the website https://mse.h-da.de and is the first point of access, as it provides useful information for potential applicants

A detailed description of the admission requirements can be found in the Special Provisions of the Examination Regulations as well as in the Admission Requirements.
Contact
Advice on the subject of study
Peter Fromm
+49.6151.533-68237
peter.fromm@h-da.de

1
Consultation
Office Hours WS2023/24 Every Friday 14:30 during lecture times in D16/309. During the semester break only by email appointment