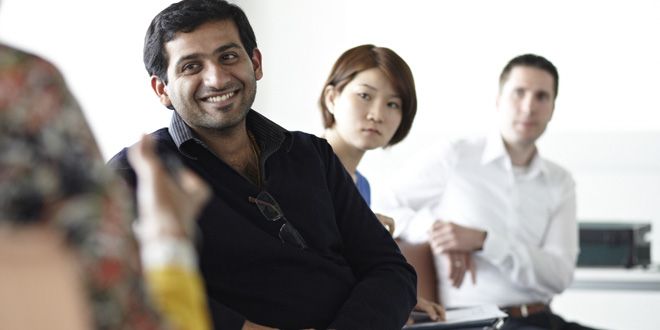 Master of Business Administration (MBA)
Content
If you want to prepare for a career in senior management, the part-time MBA programme at Darmstadt University of Applied Sciences is the right choice. It prepares students promptly, intensively and efficiently for the challenges of management in supra-regional companies. Our target group is managers and high potentials who would like to expand their previous education and professional competence with sound management qualifications. Among the students are both people with a university degree in economics and non-business economists who, after several years of professional experience, hold management and leadership positions and would like to improve their personal development opportunities and career prospects while working. The MBA programme is fee-based and is also offered as a 3-semester variant in full-time. More detailed information on the programme can be found on the website of the Faculty of Business.
Perspective
The internationalisation of markets and the growing together of Europe lead to an increased demand on the labour market for highly qualified, practically trained employees who are able to take on leadership positions in nationally and globally active companies even and especially in economically turbulent times. With the MBA degree as an important additional qualification, you have the decisive competitive advantage to take on precisely such leadership positions in nationally and globally active companies. It is irrelevant which industry you choose or which industry you come from when you start your education. Many questions in the context of strategic planning and management in departments, divisions or the company as a whole are generally valid. As a graduate of the MBA programme, you have undergone a theoretically sound and at the same time practice-oriented general management education and have dealt intensively with economic issues and contexts at a high level. You are able to perform complex transfer services and to link existing experience and competences with newly acquired knowledge. This enables you to react to change processes and develop innovative solution strategies.

After achieving a master's degree, it is possible to do a doctorate. The central contact point is the graduate school.
Structure
The programme comprises 12 modules that specifically supplement the knowledge acquired so far with business background and specialised knowledge:
Strategic Management and Leadership
Business Research Methods
Communication, Negotiation, Mediation
Project Management
Financial Management
Operations and Supply Chain Management
Strategic IT Management
Business Law and Ethics
Advanced Business Simulation
Managerial Accounting
Global Marketing Management
Master Project/Thesis
The focus is on imparting competences that are required in management positions in globally active, but also regionally active companies, regardless of the industry.
The courses in all semesters combine knowledge transfer and consolidation with intensive management- and decision-oriented implementation in practical exercises and case studies. Each module is completed with an examination. These are taken during the course and consist of case study presentations, practical exercises, presentations, project studies and written examinations. The programme ends with a Master's thesis.
Six credit points are awarded for successful participation in a module, 24 credits for the Master Project/Thesis. A detailed description of the study contents can be found in the module manual.
Since the degree programme is offered on a part-time basis, no explicit practical phase is planned. However, the Master Project in conjunction with the Master Thesis offers the opportunity to scientifically examine a current issue from the context of the company and to present possible solutions in a Master Thesis.
*Access
Above average university degree
At least three years of relevant professional experience
Basic knowledge of business administration amounting to 30 CP
Sufficient knowledge of English
In addition to the formal admission requirements, the following personal requirements are expected:
Professional competences (hard skills), e.g.
Ability to think abstractly
Basic knowledge of business administration
Basic mathematical understanding
English language skills
Ability to present facts in a scientifically formulated way
Social skills (soft skills) e.g.
Methodical, systematic work
Ability to work in a team
A detailed description of the admission requirements can be found in the Special Provisions of the Examination Regulations (German) and the Admission Regulations (German).